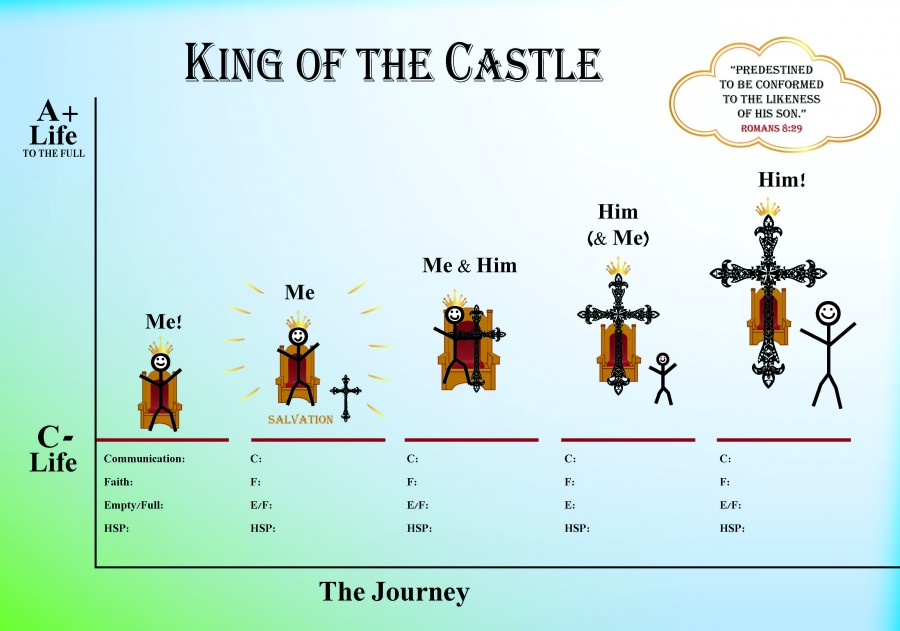 The Kingdom of Me
September 11, 2013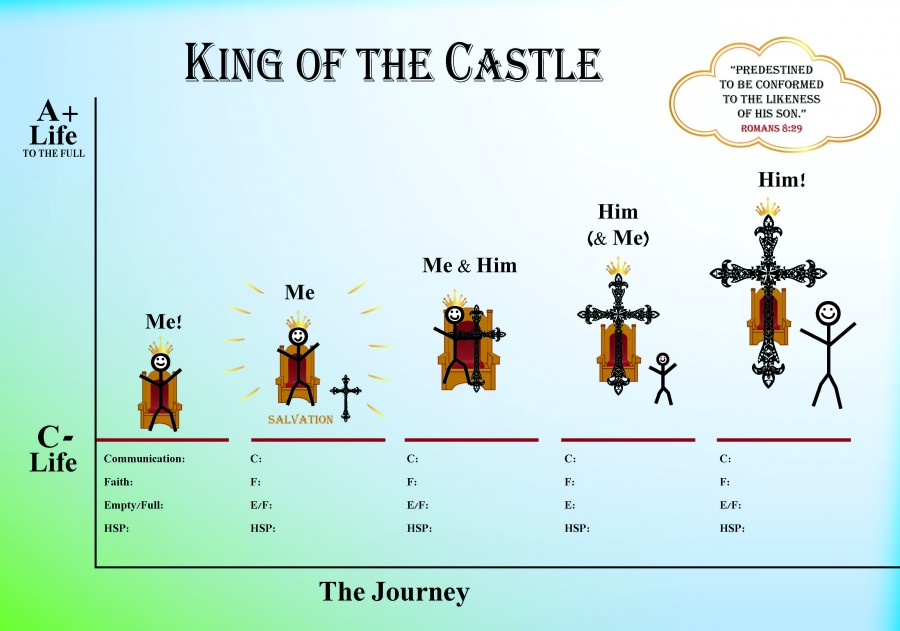 The Staples Incident (Part 1) – A Living Parable of the Kingdom of Me
September 26, 2013
"For he has rescued us from the dominion of darkness and brought us into the kingdom of the Son he loves, in whom we have redemption, the forgiveness of sins." (Colossians 1:13)
Me!
We start life sitting firmly atop the throne of the Kingdom of Me. Life is about Me. I might be nice or I might be disagreeable. That is not the point. We are atop the throne from the very start, as evidenced by the familiar cry, "It's mine!" or "She took my toy!" we hear from children early on. And adults from then on.
Me! (Salvation)
After we have collected a few, or many, near-misses, and some out right disasters while commanding  life from atop our throne, we see this power structure just doesn't work very well. Some of us see the Light, surrender our throne, and ask Jesus to be the King of our lives: Salvation!
But we're still atop the throne. Jesus is our Savior, but not yet our Lord, not by a long shot.  We still insist on ruling. After all, it's the only way we know.
Me & Him
Someone asked me recently how one increases one's faith, one's trust in God. Based on my experience, and many observations, I replied, "We start by trusting Me and not Him in a particular situation, and we experience how that works out. We then decide to trust Him in the next, and we see how this works better. But being human, we grab the throne again, trusting in Me, and, again, we see how poorly that works out. So the next occasion we try trusting Him. And so on, until the trusting in Him far outweighs the trusting in Me."
Along this process, we move from the Kingdom of Me to the Kingdom of Me & Him. We have seen that life just works better when we surrender to Jesus. But we are not fully convinced, so we try to negotiate a partial surrender. Like the Japanese at the end of WWII, we see we are losing, but we want the Emperor (Me) to still have some power, so we invite Jesus up on the throne with us: co-kings!
We feel better about ourselves because we are making such fine progress in our spiritual journey. But the reality is a partial surrender is no surrender at all. We're still in charge, especially when we think it's necessary. Oh, we're happy to let Jesus handle the spiritual stuff, but we'll handle the practical stuff.
Him (&Me)
So we collect a few more mistakes, and hurts. We start to see the only prudent approach is to get off the throne and let Jesus reign supreme – or so we say. We get off the throne, but we still want to be on the Management Committee. You see, we believe God is all-knowing, but at this stage of the journey we don't believe he is all-"with it". There are some things God just doesn't understand as well as we do, not in the everyday nitty-gritty of our complicated world.
He needs our valuable insight, and helpful input. So we give it to him.
If you are looking at our chart, you will notice you are indeed off the throne at this point, but you are a little person, advising from the peanut gallery. You might feel like a grown-up, but you're nowhere near who God wants you to be. If you stay at this stage, and many do, your growth is stunted. You won't grow into the giant God intends. Your life will consist of painting by the numbers. No portrait, certainly no masterpiece.
You are just mowing the grass of your life, as C.S. Lewis observes:
"If I am a field that contains nothing but grass seed, I cannot produce wheat. Cutting the grass may keep it short: but I shall still produce grass and no wheat. If I want to produce wheat, the change must go deeper than the surface. I must be ploughed up and re-sown." Mere Christianity
Him!
There is a bigger life waiting for us in the Kingdom of Him. God created you to be a masterpiece, a one of a kind, customized creation. "For we are God's workmanship, created in Christ Jesus to do good works, which God prepared in advance for us to do." (Ephesians 2:10) The Greek word for "workmanship" is better translated "craftsmanship." Nothing off the rack about you.
Once we fully abdicate our throne, and happily subject ourselves to God's rule, we start to grow larger, more full-bodied, robust, and bursting with the power of the Holy Spirit: clarity, energy and creativity. We become more and more who he designed us to be. Our true colors emerge. Our talents blossom.
Me is no longer mechanically painting life by the numbers, but instead He is now brush-stroking a portrait.
From the Kingdom of Me all the way to the Kingdom of Him is a journey, a process. It takes time. It takes hits and misses, trusting in Me and trusting in Him. You, my friend, are somewhere along this journey. May you see that "you were dead in your transgressions and sins, in which you used to live when you followed the ways of this world and of the ruler of the kingdom of the air …"
…and may "the eyes of your heart be enlightened in order that you may know the hope to which he has called you, the riches of his glorious inheritance in the saints, and his incomparably great power for us who believe." (Ephesians 2:1-2 & 1:18-19)