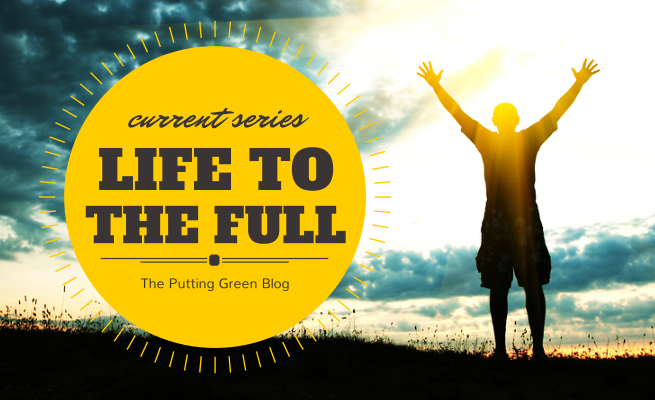 Did Jesus Go to Hell?
April 17, 2014
"Let your conversation be always full of grace, seasoned with salt, so that you may know how to answer everyone." (Colossians 4:6)
Matthew, Mark and Luke, are called the Synoptic gospels because they contain similar stories and follow similar time tracks. "Synoptic" in the Greek means "to see together." It is such a gift that these three are similar, yet different enough in their details that we can have confidence they weren't copying each other, fabricating a story about their hero. In fact, their varying details make them more believable, not less.
Don't you agree if we got three people together to recount an event, say a car wreck, or even a sporting event, we would get varying details? But if they all saw the same thing, their central message would be the same. So it is with the Synoptic gospels: varying details, same message.
In comparison to John's gospel, Matthew, Mark and Luke contain more events, more teachings, and more parables. Eugene Peterson described the difference between the Synoptic gospels and John's gospel like this: "Matthew, Mark and Luke write like kayakers on a swiftly flowing river with the occasional patches of white water. But John is more like a canoe on a quiet lake, drifting unhurriedly, paddling leisurely to take in the sights along the shoreline, noticing rock formations …."
The Synoptic Gospels contain many parables which Jesus uses to teach us his truths. John has no such teaching parables. He has living parables. These past few weeks, we have watched these living parables as Jesus unhurriedly unfolded his grace and truth with each encounter.
Because it's always personal with Jesus.
I've heard people say, "I'd rather see a sermon than hear a sermon." With John, we see how Jesus lived sermons of grace and truth. We watched as he met the Down & Out, the Samaritan woman at the well and the woman caught in adultery, right where they were, and gave them exactly what they so desperately needed: overwhelming grace, yet with a seasoning of truth to set them free.
We have also watched as Jesus met the Up & In, Nicodemus and the rich young ruler, and lavished grace on them as well, just a different kind of grace. These Up & In's did not desperately need warm and fuzzy grace; they needed blunt truth: "There's more. You're missing it."
Jesus masterfully convicted the Down & Outs and the Up & In's with truth, but he never condemned any of them. Satan condemns; Jesus convicts. Please, never forget this. Satan condemns; Jesus lovingly convicts.

Satan utilizes the 3-D approach: Destroy, Distract and Discourage.**
Jesus lovingly convicts, never condemns. Through his conviction he brings us to crossroads of crisis. We must choose. We can surrender to Jesus as our Savior – or if you are already saved, then as your Lord – or we can walk away sad, as the rich young ruler did. He rushed up to Jesus at first, full of energy, but sulked away sad.
The Samaritan woman sulked up to Jesus in the mid-day heat, but she rushed away joyfully to tell everyone she had met the Savior. She was convicted by Jesus' grace and truth, and she surrendered. Nicodemus snuck out to see Jesus, and he likely snuck back into Jerusalem. But he was convicted by Jesus' blunt truth, and he eventually surrendered.
Will you? Will you surrender? Like Nic, you don't need new information. Like Samantha, you don't need a new relationship or new anything. Like the rich young ruler, you don't need a new performance checklist.
Ezekiel proclaims, "I will give you a new heart and put a new spirit in you; I will remove from you your heart of stone and give you a heart of flesh." (Ezekiel 36:26)
"You need a new heart," Jesus is saying to you today.
You are at a crossroads. You can either surrender and join the King, never to be condemned again, or you can delay. Don't delay. To delay is to be distracted and discouraged. And if you are sure you are saved – are you sure? –  the choice for you is to go deeper with the King into the Kingdom, towards the A+ Life.
And yet the truth Jesus wants you to hear, which comes from his heart of grace, is if you delay, one day he might have to say, "I never knew you. Away from me you religious church people. You know all about me, but you never took the time to know me." (Matthew 7:21-23 paraphrased)
**If You Want a Little More:
                                                              
Satan utilizes the 3-D approach: Destroy, Distract and Discourage. (Search Ministries)
If he can divert you away from a living, loving relationship with the Light of the World, he will have destroyed your soul. He is as happy to accomplish this with you in church or not, as a Churchian or an atheist … or as a lazy-minded agnostic.
                              
But if he loses that war, he will spend the rest of your life trying to distract and discourage you. He will do this by seizing upon your humanness, and promoting condemnation, in the disguised voice of your loving Father. If he can distract and discourage you with busyness, or overwhelm you with guilt and condemnation over your sinful habits, he will keep you from the "A+ Life to the Full" Jesus said he came to give you.  (John 10:10)
---
Copyright © 721 Ministries. You are welcome to make a single copy for your personal use, but multiple copies for distribution must receive the prior written consent of 721 Ministries.
Scripture taken from the HOLY BIBLE, NEW INTERNATIONAL VERSION®. Copyright © 1973, 1978, 1984 International Bible Society. Used by permission of Zondervan. All rights reserved.