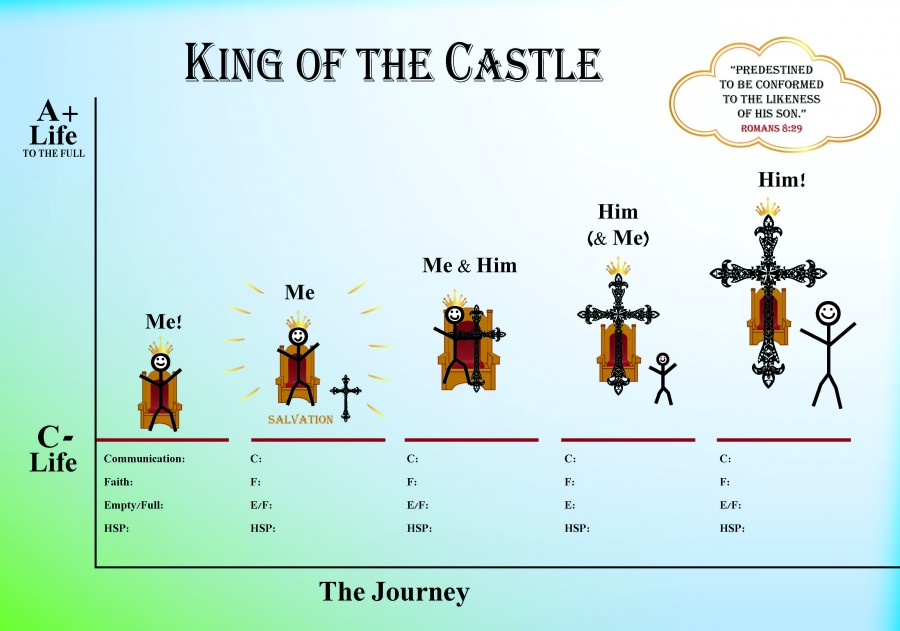 The Staples Incident (Part 1) – A Living Parable of the Kingdom of Me
September 26, 2013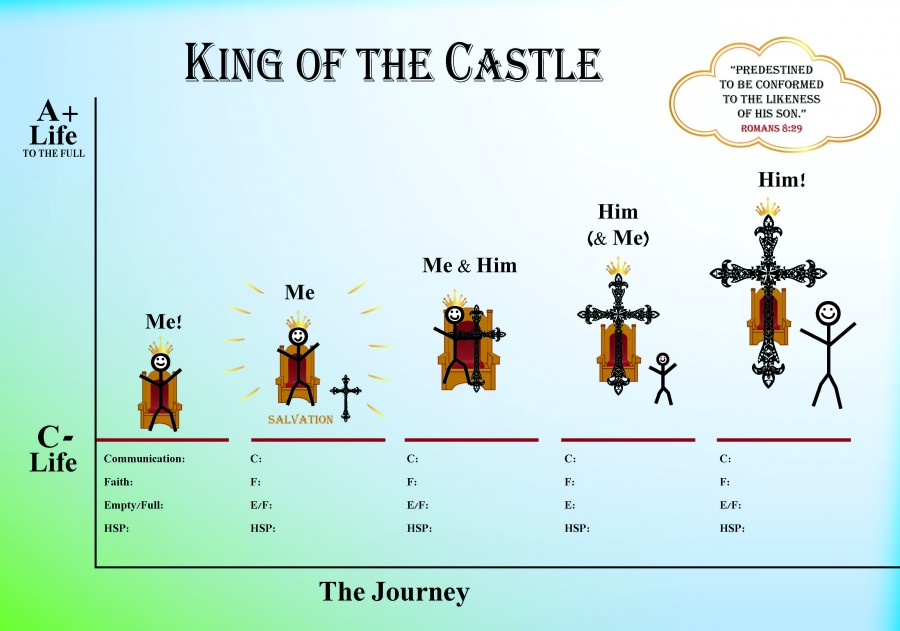 The Kingdom of Him: If You Want It
October 10, 2013
When we last saw Sam (or you, recently?) he was up on the Throne of Me, in line at Staples, demanding, "So are we locked down here until the manager comes?"
As Jesus was watching Sam's performance he was shaking his head and saying, "Make a tree good and its fruit will be good, or make a tree bad and its fruit will be bad, for a tree is recognized by its fruit… For out of the overflow of the heart the mouth speaks." (Matthew12:33-34)
As I drive home, my tail between my legs, all I can think about is how often this has happened inwardly, regardless of my outward behavior. I think about how it overflows into my driving, and who knows where else? Something has got to change. I've been walking with the Lord for eighteen years and he has changed me in so many ways, but this, this cannot continue.
Later that night I revisit Jesus' words about the overflow of my heart, and read his piercing follow-up comments: "The good man brings good things out of the good stored up in him, and the evil man brings evil things out of the evil stored up in him. But I tell you that men will have to give account on the day of judgment for every careless word they have spoken. For by your words you will be acquitted, and by your words you will be condemned." (12:35-37)
When was the last time you had a Staples Incident with your wife/husband, children or those around you? Today? When was the last time you snapped, sneered or snubbed or stormed? C.S. Lewis drives the nail a little deeper with this observation: "We begin to notice, besides our particular sinful acts, our sinfulness; begin to be alarmed not only about what we do, but about what we are.
"… if I have sulked or snapped or sneered or snubbed or stormed – the excuse that immediately springs to my mind is that the provocation was so sudden and unexpected; I was caught off my guard, and I had not time to collect myself.
"If rats are in the cellar, you will see them scattering only if you surprise them. But the suddenness does not create the rats: it only prevents them from hiding. Give them fair warning and they will hide. But they are there either way."   Mere Christianity
What to do with these rats in my cellar? What are you going to do with yours? Should we try to control them? Or maybe we could train them, discipline ourselves to manage those rats. Yes, that's a good idea! We can fool everyone around us. We can perform nicely in public, and everyone will think we are so Godly and so together.
That, my friends, is the C- Life. No, I want to be changed … actually I want to be transformed … transformed into the kind of man who has no rats to manage. The kind of man who might remember what he used to be like, but would now think, "Why in the world did I ever let that get to me? Why would I drive like that? Why would I say that?" The kind of person who has no rats in the cellars to overflow.
I tend to look to Jesus, the smartest man to ever live, for clarity on sticky issues like this, and he informs me: "This is the verdict: Light has come into the world, but men loved darkness instead of light because their deeds were evil. Everyone who does evil hates the light, and will not come into the light for fear that his deeds will be exposed. But whoever lives by the truth comes into the light, so that it may be seen plainly that what he has done has been done through God." (John 3:19-21 bold added)
I see now I must open the doors into my inner cellars and shine his Light into the recesses so there is no place for the rats to hide. Not manage them; eradicate them. But not solely in my own power. This is no self-help issue. I've tried that. I need Power from the Holy Spirit.
I want to "walk in the light" as Jesus' best friend, John, wrote, "But if we walk in the light, as he is in the light, we have fellowship with one another, and the blood of Jesus, his Son, purifies us from all sin." (1 John 1:7) The question is not "Is this okay, am I technically sinning? Did anybody see me?" The A+ Life question is, "Am I walking in the light?"
Prologue: Since the Staples Incident I am a changed … no, a transformed man. I've had a born-again, again experience. The Lord, after first piercing my heart, has softened it.  Will you look deeply into your cellars of impatience, fear, anger, hurt, inability to let go and forgive, insecurity, or whatever and wherever the rats are hiding, and allow the Lord's loving Light to wash them out?
If You Want a Little More:
As I asked for help from the Holy Spirit, I was afraid, literally fearful and weak-spirited, that the mountain was too high. The rats were too dug in. The dark corners in the cellar of my heart were too entrenched. I was afraid of who I am, inside, much more than what I do, outside.  I was aware of my sinfulness much more than my sinful actions.
So I cried out for power, and the power came. And it will for you, too. This is no self-help program. We need the "power to demolish strongholds," and if you are saved it is right there, in you, ready to be employed. (2 Corinthians 10:4)
---
Please Note: This and future Putting Greens will be posted on our new sister website: http://puttinggreenblog.com/
On this new site you will find a chart depicting this King of the Castle series. Go see it!
Don't forget "721 Live" on FM 92.9 and AM 660 Fridays 11:00 – 11:30 am. Or listen live at www.721ministries.org.   You can also contact us at: Sam Hunter 721 Ministries   4 Seminole Drive Greenville, SC 29605
(864) 325-5119   www.721ministries.org
Copyright © 721 Ministries. 
You are welcome to make a single copy for your personal use, but multiple copies for distribution must receive the prior written consent of 721 Ministries.
Scripture taken from the HOLY BIBLE, NEW INTERNATIONAL VERSION®. Copyright © 1973, 1978, 1984 International Bible Society. Used by permission of Zondervan. All rights reserved.