The Staples Incident (Part 2) – A Living Parable of the Kingdom of Me
October 5, 2013
The Kingdom of Him: Trust
October 17, 2013
The Kingdom of Me pervades our entire castle, so that the rats in the cellar are always at the door, ready to scurry out, as we saw in my Staples Incident. The rats appear in all shapes and sizes, but the common denominator is an "If I don't, it won't" approach to life. "If I don't fix it, or them, it won't go the way it has to for me to be happy. If I don't act now, they won't perform as they must, so my kingdom runs smoothly … for me."
When we live in the Kingdom of Me, perched atop our silly little thrones, the best we can hope for is a C- life. Often it's closer to a D, and many times it's a flat out failing F. The F life is obvious, and therefore may compel us to get off the Throne of Me, and surrender to the true King. The D life is a miserable life, but apparently not miserable enough to move some people to take action – to seek change. But it's the C- life that is the most dangerous, because we are lulled into a "mowing the lawn" approach to life, just getting through the day – which becomes the week, the month, and the years drift by.
Jesus comes along and offers an invitation to a richer life, the A+ Life in the Kingdom of Him: a refreshing, cleansing, freeing life of trust. Jesus offers a life of clarity, energy and creativity that flows naturally through the Kingdom Among Us, powered by the Holy Spirit. But only if you want it. He won't force it on you. Sometimes I wish he would, don't you? "Jesus, just bound me and gag me and force me into surrendering my throne.
My kingdom has too much sway over me. I've been atop the throne too long. Make me give it up, please!" Jesus smiles lovingly and says, "If you want it, I'll take you deeper into the promised land. But only if." We hear Jesus' invitation to go deeper with him at various times in our journey. Each time we will find ourselves at a gate, a crossroads if you will: "Do I stay atop my throne and continue to try to control things, and people, my way, or do I surrender and follow Jesus, and his Way?"
But we hold back. We think we simply cannot let go, at least not in this particular area to which Jesus is pointing. "Jesus, I want to follow you; I want to drop what is holding me back, but I can't. Not now. It would be too hard. I want to, I really do. But can't you see? The mountain is too high; the gate is too narrow."
The Rich Young Ruler
And in the same way Jesus looked at the rich young ruler as he wilted away, he looks at you with love, and says, "Okay, if you don't think you can, I won't force you. But if you want Life to the full, follow me through this gate. Let's go deeper."
The rich young ruler was sitting firmly atop his Throne of Me as he approached Jesus, professing, "I want to go deeper. I really do. Just show me what to do, and I'll do it." But of course it's not so much about what you do, as who you are. So Jesus responds, "If you want to follow me, drop what you are holding onto, which is in fact holding onto to you, and therefore holding you back from going deeper with me." How did the young man respond? Like I have at various times before: "At this the man's face fell. He went away sad, because his trust and his security were in his own kingdom. Jesus looked around and said to his disciples, 'How hard it is for anyone to enter the kingdom of God, who will not surrender his or her Throne of Me!'" (Mark 10:17-23 paraphrased)
The young man went away sad because he was now convicted of Jesus' way, deeper into the Kingdom. He could no longer ignore this conviction, but he wasn't ready to follow. If you find yourself in this position, you will understand his sadness: it's a miserable feeling to stiff-arm Jesus, especially when he has convicted your heart of a nagging issue.
Jesus is beckoning to you, "Follow me. But if you are serious, let's start by stepping down from your Throne of Me, and stepping deeper through this next gate into the vast richness of The Kingdom of God. It will require letting go, dropping this one thing about which you are now convicted. Is it a bad habit? Is it a heart issue: resentment, envy, can't forgive? Is it a trust issue? (Yes, always) The reward on the other side will be immeasurably more than anything you could ask for, or even imagine to ask for." (Ephesians 3:20)
1. Dallas Willard The Divine Conspiracy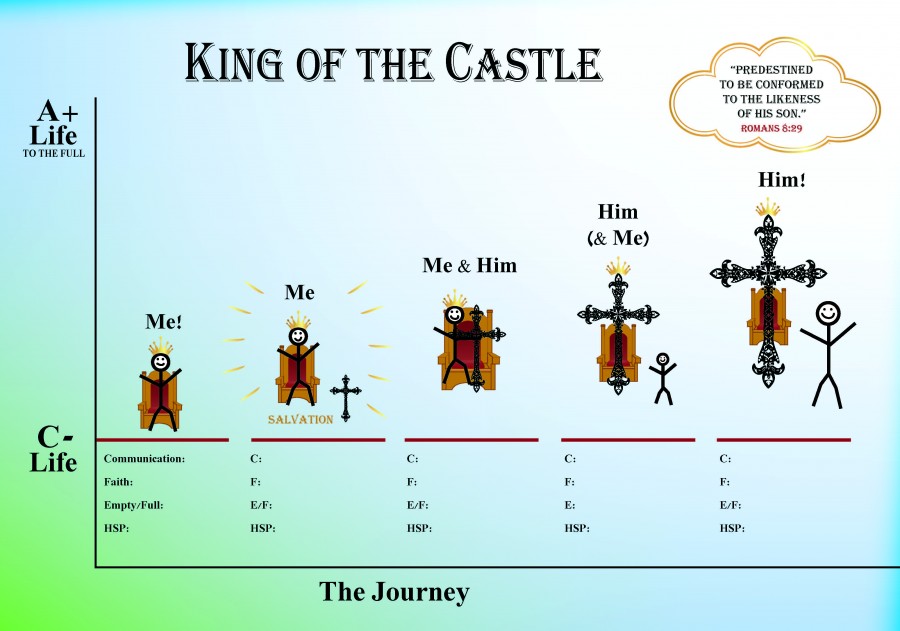 On this new site you will find a chart depicting this King of the Castle series. Go see it!
Don't forget "721 Live" on FM 92.9 and AM 660 Fridays 11:00 – 11:30 am. Or listen live on our website.
Sam Hunter 721 Ministries www.721ministries.org 864-370-0073 4 Seminole Drive Greenville, SC 29605
All articles found on this 721 Ministries Blog are copyrighted. You are welcome to make a single copy for your personal use, but multiple copies for distribution must receive the prior written consent of 721 Ministries. Scripture taken from the HOLY BIBLE, NEW INTERNATIONAL VERSION®. Copyright © 1973, 1978, 1984 International Bible Society. Used by permission of Zondervan. All rights reserved