The Kingdom of Him: Trust
October 17, 2013
Trust, Love or Fear?
November 7, 2013
We are exploring what life in the Kingdom looks like, and it looks like trust.
Did you know Jesus was only "amazed" twice in all of the Gospel stories? Even a casual reader would see Jesus was a man of steady balance, not typically given to extreme emotions. Okay, he did get extreme with the extremist Pharisees, but Jesus typically moved with an aplomb characteristic of someone who lived their life in "full view of the heavens opened."1
But at Luke 7 we see Jesus was amazed at the Centurion's trust: "When Jesus heard this, he was amazed at him, and turning to the crowd following him, he said, "I tell you, I have not found such great trust even in Israel." Matthew, watching Jesus that day, thought the word "astonished" better described Jesus' reaction. (Matthew 8:10)
Amazed. Astonished.
I want to be the Centurion, don't you? Wouldn't you want to astonish Jesus with your trust? The Centurion had a big occasion to display big trust, and so may you. I know a man who experienced extreme duress in his marriage. Extreme. But he chose the counter-intuitive and counter-cultural path of trusting God, instead of himself, or the court system.
I'm tempted to think he's nuts. You would, if I gave you the details. His lawyer must. The courts sure would. But he has what seems to be an unrealistic and totally impractical trust that God is indeed in charge, that God is all-powerful, and that God loves him perfectly. A fool? Naive?
Is he a fool in God's eyes to trust him? Or more likely, God will welcome him with, "I'm astonished at your trust. Well done good and trusting servant. I am well pleased with you, my son."
I can only imagine God is even now gathering around a few of the heavy hitters in Heaven and saying, "Come over here, quick, look at my son. Isn't it amazing he is actually trusting me, even though everything and everyone around him is screaming, 'Look out for #1?' I have not found such great trust even in Israel."
Imagine my friend's entrance into heaven. A standing ovation? Now imagine yours.
Jesus was also amazed, but at the lack of trust of his hometown people. And so "he could not do any miracles there …. And he was amazed at their lack of trust." (Mark 6:5-6)
What do you want? To astonish Jesus with your trust, or lack thereof?
The Centurion and my friend faced extreme circumstances in which they displayed extreme trust. Maybe you'll be "lucky" enough not to be faced with such difficulty, but you can display this rock-solid trust even in the details of your everyday life, and it will be just as pleasing to God.
We are all presented with an array of opportunities to trust, or to fear and worry. Little annoyances that don't go our way. Bigger frustrations that upset our little world. Some very real. Some blown all out of proportion.
When the contract is delayed, or even cancelled, when that repair bill is much higher than expected, when your husband or wife is not acting right, or when your child is wandering.
Maybe it's just that your incessant need for immediate gratification has been delayed.
Or perhaps you just can't see God moving and just can't feel his presence. You can choose to react in fear or respond in faith … to worry or to trust. One is a path to peace; the other an avenue to anxiety.
And even when you just try to trust, Jesus embraces your feeble attempts, just as he did with the distressed dad, whose possessed son was flailing around in the fire.
When Jesus told the father, "I can do anything, if you will just trust me," he cried out, as I so often do, "I believe; help me with my unbelief!" Even this mere attempt to trust obviously amazed Jesus, and he responded immediately. (Mark 9:24)
In extreme trials and challenges, and even in day to day problems, amazing an amazing Jesus with an unwavering trust leads to the peace that passes all understanding.2 Start today, right now, wherever you are, whatever you are facing, big or small, and say, "I'm ready to start trusting you, Jesus. But I need your help!"
Then get ready, because he will amaze you.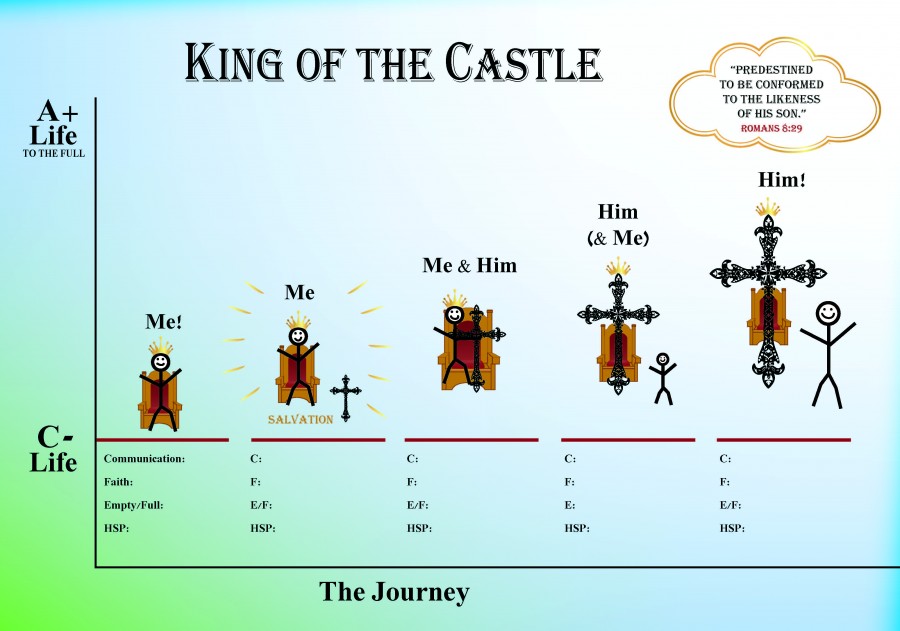 Please Note: This and future Putting Greens will be posted on our new sister website: http://puttinggreenblog.com/
On this new site you will find a chart depicting this King of the Castle series. Go see it!
Don't forget "721 Live" on FM 92.9 and AM 660 Fridays 11:00 – 11:30 am. Or listen live at www.721ministries.org.   You can also contact us at: Sam Hunter 721 Ministries   4 Seminole Drive Greenville, SC 29605
(864) 325-5119   www.721ministries.org
Copyright © 721 Ministries. 
You are welcome to make a single copy for your personal use, but multiple copies for distribution must receive the prior written consent of 721 Ministries.
Scripture taken from the HOLY BIBLE, NEW INTERNATIONAL VERSION®. Copyright © 1973, 1978, 1984 International Bible Society. Used by permission of Zondervan. All rights reserved.