The Kingdom of Him: Amazing Trust!
October 24, 2013
Trust: React in Fear or Respond in Faith?
November 13, 2013
The Lord does not give me rules, but He makes His standard very clear. If my relationship to Him is that of love, I will do what He says without hesitation. If I hesitate, it is because I love someone I have placed in competition with Him, namely, myself. Jesus Christ will not force me to obey Him … But if I obey Jesus Christ in the seemingly random circumstances of life, they become pinholes through which I see the face of God. (Oswald Chambers)1
My friend John says to me, "Sam, I'm really sweating out this proposal I've submitted. I need to win this contract. I'll do anything to get it, even bend the rules … slightly… if I have to. And I may have to, because my competitor is cutthroat. If I lose it, well, I just can't lose it! You're the preacher, what do you have to say to help?"
John's eyes are darting around the room in a nervous frenzy, and about every other word is a curse word. I haven't seen him this agitated in a while. So I try to calm his nerves by quietly saying, "I would try to abandon the outcome to God, John, because you do not control the outcome."
John's response: "But I'm afraid it might not be God's will that I get this contract?"
Oh my.
In the previous post, we explored the question: Why is trust so important to Jesus? Our answer, "No trust, no relationship. Trust is the currency of relationships." And, "No trust, no obedience" – at least not obedience from the heart.
How often do you obey, or at least try to obey, but only out of fear he might not give you what you want – or fear of God's punishment if you displease him? How often do you 'act right,' motivated by fear of what other people might say about you? (Far too often) Do you try to perform out of fear?
Or do you obey because you love God, and trust him implicitly?
Jesus' dear friend, John, after a lifetime of watching Christians trying to perform, but motivated by fear, writes:
"There is no fear in love. But perfect love drives out fear, because fear has to do with punishment. The one who fears is not made perfect in love." (1 John 4:18-19)
When we understand God loves us perfectly there is simply no room left in our hearts for fear: no fear of God; no fear of what others think; no fear of … the outcome. His perfect love can and will drive out all your fears, and fill your heart with so much trust, you will start to view fear as silly, useless, and totally illogical.
What a life!
Imagine the peace from being saturated with the perfect love of your Heavenly Father, and therefore wanting to obey him. Imagine trusting the outcome to him, simply because you know his outcome will lead to the best life possible. That my friends, is the gateway into the deepest riches of the Kingdom among Us.
Obedience is secondary to trust. Why? Because obedience, for the wrong reasons, always misses the mark. Listen to yet another sweeping proclamation from God about the supremacy of trust:
" … and everything that does not come from trust (faith) is sin." (Romans 14:23)
Everything? Oh come on God, not everything.
Everything.
A useful definition for sin is "Missing the mark." (It doesn't fully cover the egregious nature of sin, but it can be helpful.)
With this in mind, let's paraphrase Romans 14:23: "… and everything you do that does not come from trusting God misses the mark."
When you act according to your trust in your Self, or solely in your business acumen, or your experience, or trusting him or her, you will miss God's best.  And when you act out of fear: of God, of what others think, of the outcome – you always miss the mark.
How could this be anything other than missing the mark? You trusted you. You left God out. You obeyed you. You pleased you. You displeased God.
But you can trust God. You can obey God. You can abandon the outcome to God. And you can do all this without fear.  Because he loves you perfectly.
Imagine that life.
1. My Utmost For His Highest – Oswald Chambers November 2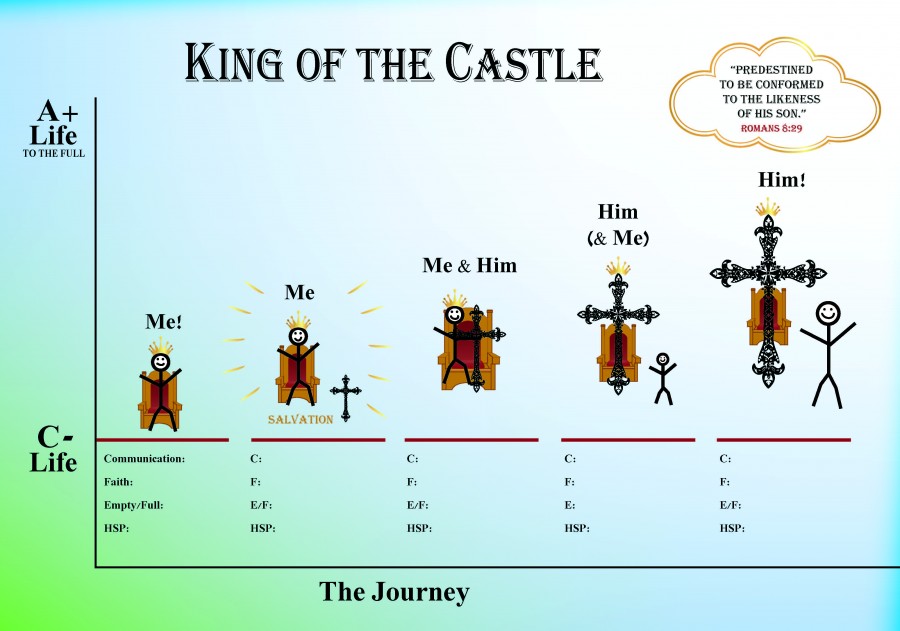 Don't forget "721 Live" on FM 92.9 and AM 660 Fridays 11:00 – 11:30 am. Or listen live on our website.
Sam Hunter
721 Ministries
www.721ministries.org
864-370-0073
4 Seminole Drive
Greenville, SC 29605
All articles found on this 721 Ministries Blog are copyrighted. You are welcome to make a single copy for your personal use, but multiple copies for distribution must receive the prior written consent of 721 Ministries.
Scripture taken from the HOLY BIBLE, NEW INTERNATIONAL VERSION®. Copyright © 1973, 1978, 1984 International Bible Society. Used by permission of Zondervan. All rights reserved