Part 3: Changed to Transformed – What does a Transformed Follower of Christ Look Like?
February 12, 2014
What does a Transformed Follower of Christ Look Like?
March 6, 2014
Looking out at the road rushing under my wheels
I don't know how to tell you all just how crazy this life feels
I look around for the friends that I used to turn to to pull me through
Looking into their eyes I see them running too
Running on – running on empty
Running on – running blind
Running on – running into the sun
But I'm running behind
-Jackson Brown
A transformed person sees the world differently. I should say a person who is being transformed, because it is a process and hopefully one that never ends. He or she is not distracted by the legion of silly and vapid worldly appeals, but is focused on what is truly important. They see the world around them as a God-saturated world, and are not as easily distracted as most.
For us to get a better picture of what such a person would look like, how do you think a transformed person would complete this?
1.      "I can fill my voids with ___________________"
We all have voids. We have areas of doubt, areas of loneliness, areas of fear, and …or … areas of lust, envy, want, need and longing. You do. If you don't think so, you're either the most evolved follower of Jesus ever, or you're … blind.
But as we follow Jesus deeper into the Kingdom, his full life fills our voids. That would make sense, since he promised "life to the full."1 However the world promotes a litany of much better ways to fill up: "buy this, do this, date them, drink, smoke or chew this, play this, go there, watch this."
What is your "go to" to fill up? Is it golf, exercise, work, church work, shopping, drinking, smoking, dating, or worrying? I had a friend, we'll call her Mary, who ran multiple marathons a year. The Light came on and Jesus became her friend, as well as her Lord, as well as her Savior. A year or so later I overheard a brief exchange between Mary and another marathon running friend:
Friend: "Hi Mary, are you running in the race this weekend?"
Mary: "No, I'm not running marathons anymore."
Friend: "Are you kidding me? Why not?"
Mary: "Because I'm content."
Mary later explained to me, "I had to run to try to fill the emptiness inside. Looking back I can see I was terrified of being still, of being alone with myself, and my anxiety was driving me to run. I had holes inside me and I just couldn't find a way to fill them.
"Until Jesus showed up."
Blaise Pascal observed, "There is a God shaped vacuum in the heart of every man which cannot be filled by any created thing, but only by God, the Creator, made known through Jesus."
From another friend just this week:
"I got to thinking about being still when my power was off and all.  What I meant by "it made me look at my life" is this:  When I didn't have anything to keep me busy, I kept going to the things I was actually doing with my life.  i realized what I had been doing wasn't just activities, it was who I was.  I was snowed in for a couple of days but my power was only out for a handful of hours.
"I kept going to the fridge looking for a beer.  I kept wanting to watch tv, play video games, look on the internet.  And realized I had nothing else to turn to at that point.  This was within the same time frame God really started working with me.  I didn't really see it then, but I understand it now.  I'm not feeding you b.s. This is a great message."
What are your holes and how are you trying to fill them?
My "go to" for my gaping holes was a litany of not-so-great behaviors, some well documented. And like Mary, my "go to" for anxiety used to be intense exercise. If I was worried, or anxious or agitated, I would go run it off. The voids in our lives cause us to stir, to get busy with something, or someone. We cannot sit still, alone, contemplating the root cause of our void. So we distract ourselves.
In the last few years, when I have been ready to go run it off, I've heard Jesus say, "Why don't you just sit still, and let me fill your void?" I heard him say it clearly each time, but I couldn't do it. Not at first. I needed action; I needed distraction. I didn't like the way I was feeling and I needed to do something!
But slowly I learned to sit still, and listen, and be with Jesus. Those times became so precious to me. I could sense the foundation of my life forming up, becoming rock-like. The shifting-sands of my anxiety were solidifying and my voids were filling up – with the only god … God … who could fill me, and never leave me empty, again.
Now I see him. Now I can talk to Jesus. Now I can hear him. I'm not running away anymore. These still times became like a cascade of Jesus' promises overflowing me:
"Come to me all you who are weary and burdened, and I will give you rest." Mathew 11:28
"Everyone who drinks this water will be thirsty again, but whoever drinks the water I give him will never thirst. Indeed, the water I give him will become in him a spring of water welling up to eternal life."  John 4:13-14
"If anyone is thirsty, let him come to me and drink. Whoever believes in me, as the Scripture has said, streams of living water will flow from within him." John 7:37-38
Now I know where to go for a fill up. I'm still running, but not to fill a void. I have found what I was looking for.
My prayer is that you, too, "being rooted and established in love, may have power, together with all the saints, to grasp how wide and long and high and deep is the love of Christ, and to know this love that surpasses knowledge–that you may be filled to the measure of all the fullness of God." Ephesians 3:17-19 (Bold added)
If you want a little more:
God says: "Be still, and know that I am God;" Psalm 46:10
Blaise Pascal also had this to say: "We could solve all of the world's problems if we could learn to sit in a room quietly." Maybe Blaise was given to a touch of hyperbole, but his point is still valid.
The Eagles understood this as well:
We are like sheep without a shepherd
We don't know how to be alone
So we wander 'round this desert
And wind up following the wrong gods home
NOTE: No Putting Green next week
John 10:10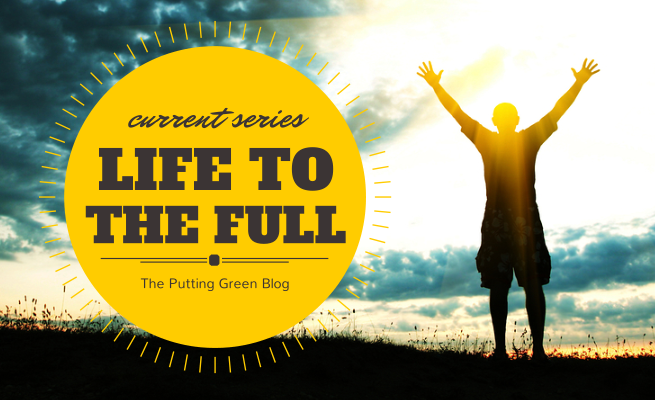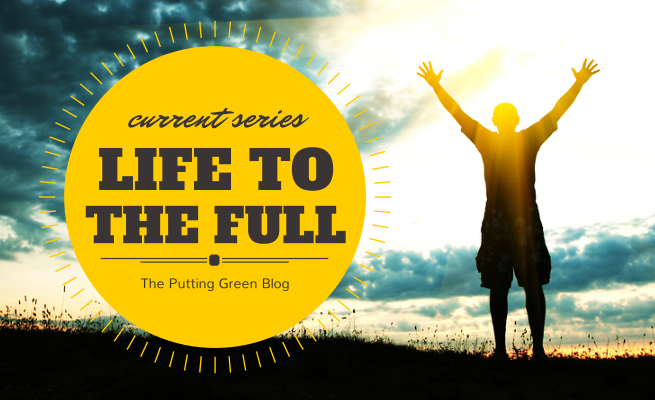 Don't forget "721 Live" on FM 92.9 and AM 660 Fridays 11:00 – 11:30 am. Or listen live on our website.
Sam Hunter
721 Ministries
www.721ministries.org
864-370-0073
4 Seminole Drive
Greenville, SC 29605
All articles found on this 721 Ministries Blog are copyrighted. You are welcome to make a single copy for your personal use, but multiple copies for distribution must receive the prior written consent of 721 Ministries.
Scripture taken from the HOLY BIBLE, NEW INTERNATIONAL VERSION®. Copyright © 1973, 1978, 1984 International Bible Society. Used by permission of Zondervan. All rights reserved