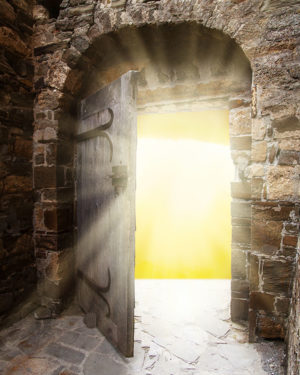 Jailbreak
October 25, 2016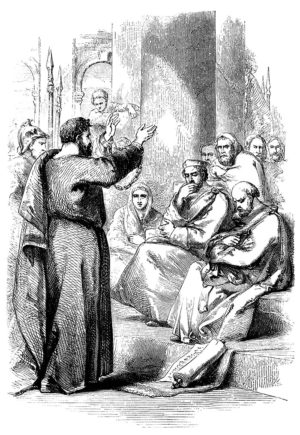 Arrested Again
November 10, 2016
T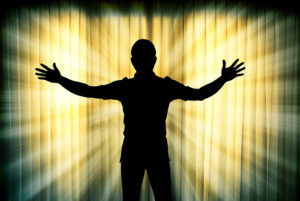 he angel vanished as quickly as he had appeared. We found ourselves freed from jail, standing in the street. We looked at each other, not sure what to do next. After a moment Thaddaeus shrugged and said, "Let's go to the temple." So we entered the temple courts, just as the angel had commanded, and we began to "tell the people all about this new life."
I have already been telling you, my friend, about this 'new life' all during this story.  And we had been telling the crowds at Solomon's Porch the same: this new life that is the resurrection life. Some call it resurrection power. This simply means learning to live with the same power that raised Jesus from the dead – Holy Spirit power.
This is the new life: a Holy Spirit powered life.
We call it resurrection power because when you are born again, it is as if you were resurrected from the dead. Because you were! The Spirit now indwells you and you are no longer the old you. A new power is at work. A power you never had before. Brother Paul says it like this:
"I have been crucified with Christ and I no longer live, but Christ lives in me. The life I now live in the body, I live by faith in the Son of God, who loved me and gave himself for me."
I … me … self … King Peter … no longer lives, but instead Jesus lives in me through the Holy Spirit. This new life is all about freedom, peace, joy, contentment, gratitude, and hope: confident expectation.
Freedom from and freedom to: freedom from the bonds and prisons in which we have all put ourselves. And freedom to experience the fullness of God the Father's riches.
Peace – isn't this what we are all looking for – peace? A peace that comes from knowing my Father for who he is: all powerful, all-knowing, and all-loving. Because of this I learn to trust him completely, and therefore my life is saturated with power and peace, as though I am perfectly safe in his care … because I am …perfectly safe.
Joy – a joy that brings a pervasive sense of well-being; a sense deep in my soul that everything is okay, and everything will be okay. But more than just okay: immeasurably abundantly more than anything I can imagine, or even think to imagine.
Contentment – a contentment flowing naturally from this peace and joy. A contentment flowing from knowing "The LORD is my Shepherd and I shall not want for anything." I shall not. A contentment overflowing with the joy of Jesus, so I can say to all fears, anxieties and temptations, "No thanks, I'm full."
Gratitude – a gratitude that comes from knowing I was saved from the agony and suffering of Hell, but also saved from my Self, and the empty blind, lost, average life I was living. Oftentimes my prayers are simply, "Thank you, thank you, thank you!"
Hope – 'Hope' in the Scriptures means 'confident expectation.' A confident expectation that enables me to view any situation, no matter how unsettling, with so much confidence in the Holy Spirit power, I can sincerely say, "Thank you now, Father, for how you are going to work this out, because I know I will be thanking you later."
This is the new life about which the angel instructed us to tell the people. This is the new life you can have. I have it. It is amazing. I want you to have it, too.
"What no eye has seen,
what no ear has heard,
and what no human mind has conceived" —
the things God has prepared for those who love him—
10 these are the things God has revealed to us by his Spirit."