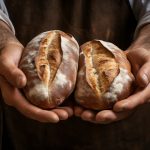 "Give us today"
October 4, 2023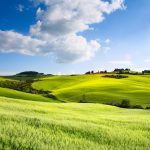 A Land Lease
October 18, 2023
 
We finished last week's Putting Green with this Psalm: 
Unless the Lord builds the house, the builders labor in vain.
Unless the Lord watches over the city, the guards stand watch in vain.
2In vain you rise early and stay up late, toiling for food to eat—
for he grants sleep to those he loves.—Ps. 127:1-2
In these familiar words, Solomon is realizing that doing things and achieving things on his own leads to empty accolades and an even emptier – and more fleeting – sense of self-achievement.
So as we ponder Jesus' counsel to pray, "Give us today our daily bread," let us understand that the greatest "Give" Jesus can give us is his participation and his partnership in our lives. Actually, it is the Holy Spirit's participation and his partnership, but you can envision either one. These days I do both.
The author is saying, "Unless you, Jesus, unless you, Holy Spirit, are in this endeavor with me, it will be an empty accomplishment. Whatever it is I am 'building,' whatever responsibility I have in 'watching' over things or people, it will not be fruit that will last if you are not with me in this."
Just as Jesus observed,
"I am the vine; you are the branches. If you remain in me and I in you, you will bear much fruit; apart from me you can do nothing. "—Jn. 15:5
Therefore when we ask the Father to give us today what we need, let's consider asking him first to give us our greatest need, Him!
But let's keep going because the next verse in Psalm 127 is practically unknown:
2In vain you rise early and stay up late, toiling for food to eat— 
for he grants sleep to those he loves. 
Do you see both the warning, as well as the promise? 
The Warning: "In vain you rise early and stay up last, toiling for food to eat." 
Does this sound familiar? How many of you have, or still do, get up early to work and stay late to work? If so, why? I can tell you why: You are the quintessential, "If I don't, it won't." – "If it's to be, it's up to me!" victim. You stress about getting it done at work because it is all up to you. You are living a Sole Proprietor life. 
Now this is nothing new, but the underlying cause-effect is that you are doing it on your own. You are, in essence, the "builder laboring in vain." You have not yet practiced – and it will take practice – bringing Jesus and the Holy Spirit into your efforts, whatever they may be: work, parenting, marriage, family, community, church, you name it. So you find yourself, "staying up late, toiling for your daily needs." 
The Promise: All the while Jesus is telling us to ask the Father for these things, and as we seek him first in our lives, and invite him into all we are doing, he will not only give us these things, but "he grants sleep to those he loves."  
In 2007, just three years into 721 Ministries, I was burning out. Why was I burning out? Because I was building the house of 721 on my own – without the Lord building it in partnership with me. Now that was not my intention; I just didn't know any better. I had always done it on my own. (Or so my ego assured me.)  
But once I began the practice of asking and inviting Jesus into everything I did, the power of the Holy Spirit – his Energy, clarity and creativity – slowly diminished my toiling and laboring in vain, and granted me all the peaceful sleep I needed. 
May you study Psalm 127:1-2, absorb it deeply, and may you start to practice appropriating it into your daily living, so that you are no longer toiling for anything in vain, but instead thriving within his partnership. 
Toiling or thriving – Sole Proprietor or Partnership?